Let's get straight to the heart of the matter. The only effective treatment for pernicious anemia is vitamin B12 shots. Don't let any doctor tell you otherwise.
But, why is pernicious anemia treated with injections of B12?
When you have PA, special antibodies are preventing your body from making IF (intrinsic factor). IF is needed for the absorption of B12 from the gut into the bloodstream. The only way to bypass this gastric defect is to get the B12 straight into the blood.
Because of that, B12 shots give new life to patients (if lucky to have had a correct diagnosis) who would otherwise be living a round-the-clock nightmare.
Pernicious anemia is called pernicious (deadly) for a reason. More than a century ago, patients would get worse and worse until they died. It was lethal, until doctors found a way to get B12 into the bloodstream. At first they used liver extract shots, but in 1948 B12 was isolated, and it was a matter of time before B12 shots became the norm.
B12 injections are harmless, simple, inexpensive, and very effective.
Pernicious Anemia Treatment Scandal
Despite the fact that such a simple treatment exists, many pernicious anemia patients end up with lifelong damage. Why? Because they are unable to get it! In the USA or UK, the health care systems consistently deny access of B12 shots to PA patients.
When doctors do prescribe injections, it's usually not nearly enough. In the UK, patients get four shots a year. That is absurd! Go ask your doctor for just one study that supports that number. There's no evidence whatsoever. It's all about saving healthcare costs. The other problem is, patients often can't get B12 shots anywhere else.
In the 60's, patients in the UK received one injection a month. Then, in the 70's, that number increased to once every two months. And in the 80's it increased to every three months, which is still what they use today. None of these is enough.
When you have pernicious anemia, you need daily B12 shots.
Most doctors are simply unable to grasp how deadly and crippling a deficiency in a vitamin like B12 can become. After a B12 shot, blood levels rise well above the "desired range" (150-700 pmol/L in most places), and stay high for a while. Since doctors think they need to keep levels within that range, they won't inject too often. But blood levels of B12 mean little, and they'll rise regardless of therapeutic effectiveness.
When doctors begin your pernicious anemia treatment, they'll actually start with an initial loading phase of 5-10 shots over a few weeks. Of course, that's much better than the one-shot-every-three-months protocol it later changes to. We suppose the change is because the initial doses are enough to keep B12 levels within the "desired range".
Worse, doctors will often stop treatment altogether when blood levels seem okay. This whole circus leaves many patients with recurring, irreparable symptoms.
But Can't You Overdose On B12?
No.
Doctors want to keep blood levels of B12 within range because of an imaginary fear of overdose. This has no foundation. Vitamin B12 is the safest thing you can inject. It is a water-soluble vitamin, meaning excess will be flushed out in the urine. There are no toxicity levels. You can't overdose. It is harmless even in huge amounts:
Ever since B12 was isolated as a substance, it has been used in extremely high doses to treat cyanide poisoning and a range of illnesses. For almost a century, not one harmful case of overdose has been recorded in medical literature. In the 50's, when chemotherapy wasn't yet available, massive doses of B12 shots were given to children with a neuroblastoma tumor – every two days, for 2-3 years – with great success:
There are too many cases recorded from this hospital and from outside sources who have been treated solely with Vitamin B12 with great success for it to be denied that this substance has a significant influence on the growth rate of neuroblastoma.

NEUROBLASTOMA: AN EVALUATION OF ITS NATURAL HISTORY AND EFFECTS OF THERAPY, WITH PARTICULAR REFERENCE TO TREATMENT BY MASSIVE DOSES OF VITAMIN B12.
In Japan, ALS patients received B12 shots of 25,000-50,000mcg (each shot equal to 25-50 'pernicious anemia shots' all at once), at first daily and then twice a week. Their ALS progressed slower and they survived for much longer than untreated patients.
In life-threatening cases, 5,000,000mcg of B12 is given directly to the veins within a 15 minute window. Blood levels quickly rise to 560,000,000pmol/L, and if necessary, treatment is repeated within hours for a total of 10,000,000mcg of B12. That is about 10,000 pernicious anemia injections all at once, and you still can't overdose!
Pernicious Anemia Treatment Guidelines
Treating pernicious anemia with high-dose B12 shots is not only 100% safe but also very potent. Started early, some patients may fully recover. Others won't be so lucky, but they can at least stop the decline. Here are some guidelines:
Don't Delay Treatment
With B12 deficiency, it's critical not to wait. The new guidelines from the British Committee for Standards in Haematology state that you should treat based on symptoms alone. The United Kingdom National Quality Assessment Scheme for Haematinic Assays warns against false B12 results and the risk of neurological damage:
In the event of any discordance between clinical findings of B12 deficiency and a normal B12 laboratory result, then treatment should not be delayed. Clinical findings might include possible pernicious anaemia or neuropathy including subacute combined degeneration of the cord. We recommend storing serum for further analysis including MMA, or holotranscobalamin and intrinsic factor antibody analysis, and treating the patient immediately with parenteral B12 treatment.

United Kingdom National Quality Assessment Scheme for Haematinic Assays (UK NEQAS), 18 February 2014.
When you lack B12, myelin begins to strip away. Myelin is a protective layer that coats your nerves, kind of like the plastic coating around electrical wires. Damage to the myelin is why you see neurological abnormalities in B12 deficiency and PA patients. Unfortunately, prolonged damage to myelin is often irreversible.
Therefore, if you show any symptoms of pernicious anemia, begin injecting immediately. Inject even if B12 levels look okay, or if you are yet to get your final PA diagnosis. Waiting for diagnosis carries a high risk, while injecting B12 carries no risk. It's that simple.
Choose Methylcobalamin B12
There are four forms of vitamin B12.
We like methylcobalamin because it reduces homocysteine levels and generates a crucial methyl donor called S-adenosyl methionine (SAMe). Methyl B12 is the most promising treatment for patients with severe neurological symptoms, bypassing several steps in the absorption cycle and helping to relieve or completely reverse symptoms.
If you can't get methylcobalamin, pick adenosylcobalamin, which is also a native form of B12. In most people, both of them can convert into each other. The main benefit of methyl B12 over adenosyl B12 is that it comes with the methyl donor.
The other two forms are hydroxocobalamin and cyanocobalamin. They are inactive and require conversion to the native forms, and are not nearly as effective. Cyanocobalamin, a slightly toxic, synthetic form, is especially dangerous to pernicious anemia patients. It may deplete the body of glutathione (to cleanse the cyanide molecule attached to it), which the body needs to lower the high homocysteine levels prevalent in PA.
Inject Frequently
Since B12 is water-soluble, you will urinate any excess. The body retains only so much of it, so you'll have to inject often to replenish the stores. Rather than injecting large doses infrequently (most of which you will flush out within an hour), it's much better to inject smaller, daily doses. As you can see, the key is little and often.
At the very least, your doctor should be in line with the NICE and BNF guidelines. Both state that you have to be on every-other-day shots until your symptoms stop improving. To be safe, we recommend to inject daily, especially if you show neurological signs.
If you're having problems getting your doctor to give daily shots, you'll have to find an alternative source. You can find a private doctor, who'll charge $50 to $250 per injection, or get an infusion clinic to drip the B12 intravenously for $100 to $500 per visit. You can now also buy injectable B12 directly from us, saving a lot of money.
Eat & Supplement Well
When you begin injecting B12, you're transitioning from a state of severe anemia to normal erythropoiesis (red blood cell production). In that initial period, you may have a high platelet blood count and your potassium levels could drop. We advise to monitor both. It may be beneficial to adopt a potassium-rich pernicious anemia diet.
Also, don't forget that B12 and folate need each other to perform. If you're not at the high end of the suggested folate range, we advise supplementing. We like the l-methylfolate form, which is a lot better than folic acid.
Don't Stop Your Pernicious Anemia Treatment
Most PA patients will have to remain on B12 shots for life, because their bodies can't absorb B12 otherwise. Sadly, doctors will often stop treatment when B12 levels look high. But high blood levels of B12 do not mean symptoms are well treated.
The obsession with B12 blood levels must stop, as they mean little. Instead, doctors should listen to their patients and treat based on signs alone. Stopping treatment will make symptoms quickly resurface. This is especially crucial for patients with neurological symptoms, which can easily become permanent if under-treated long enough.
If your doctor tries to get you off the shots in favor of oral B12 supplements (tablets, spray, etc), do not accept that as treatment. In PA, injections of B12 straight into the blood is the only reliable treatment. Some people report positive results with other treatments, but those with true pernicious anemia are unlikely to benefit at all.
When you rely on an oral B12 supplement as your main pernicious anemia medication, you are basically hoping that some of that B12 will make its way into your bloodstream even though your intrinsic factor isn't there to help. Why rely on chance?
Accept only B12 shots.
Hoping For a Better Future
You now know how to treat pernicious anemia. We hope health care providers will catch up! Currently, PA patients are at the mercy of an archaic, restrictive, and ignorant system that offers them an absurd treatment. This "treatment" leaves behind a trail of people who are forced to face paralyzing pain, chronic fatigue and serious mental damage.
This is nothing short of a tragedy.
The evidence is clear. Doctors should hand out B12 shots almost by default, based on symptoms alone. These injections are non-toxic, they repair nerves, they have a profound effect on the management of pernicious anemia, and they're not expensive at all.
Like diabetics and insulin, every PA patient should be able to buy their B12 shots over the counter. This already happens in Germany, Spain, and France. Self-injecting is easy enough. In Japan and Malaysia, you can even get your B12 shots in supermarkets.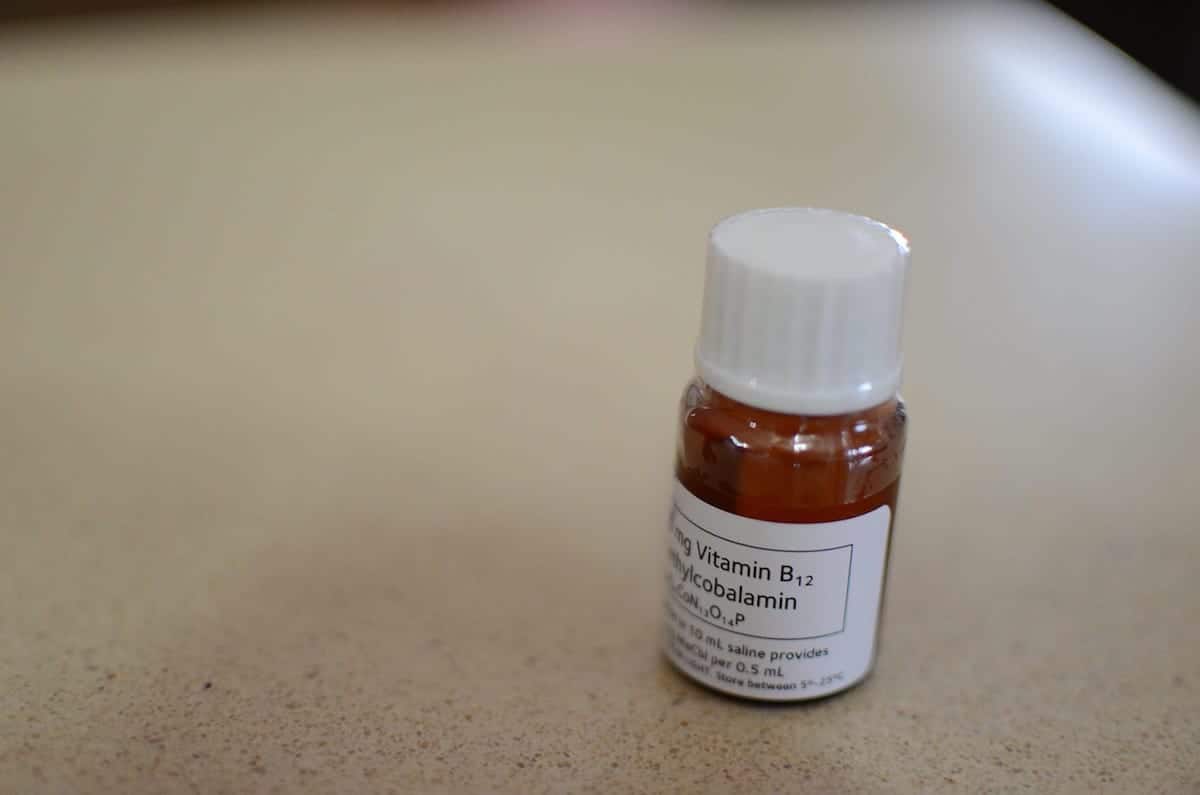 Having injectable B12 over the counter will make good treatment of pernicious anemia so much more available. It will have a deep, immediate effect on the lives of PA patients and their families. Until that day comes, we will be here to help. We created this site to give PA patients access to the high-quality B12 shots that they need.
If you can't get enough B12 shots from your health care system, you can order them here. We partnered up with a lab in England to get you pure, A+ grade, high-quality B12 that you can inject. Your plea for help will no longer fall on deaf ears.
Get your B12 shots
.