Here are the questions we get asked the most. Before sending us an email, please go through them and see if your question was answered already. In addition, you can check out our discussion board, where lots of readers and customers exchange ideas.
PA Relief's FAQ
Do your B12 vials contain any preservatives?
No. Only 100%, pure methyl B12.
What's the ideal needle size and gauge for your injections?
Any insulin needles will work.
I received an empty vial!
Look closer – it's not empty. 40mg does not take up much space at all. Here's how it looks like compared to aspirin tablets, which you're probably familiar with: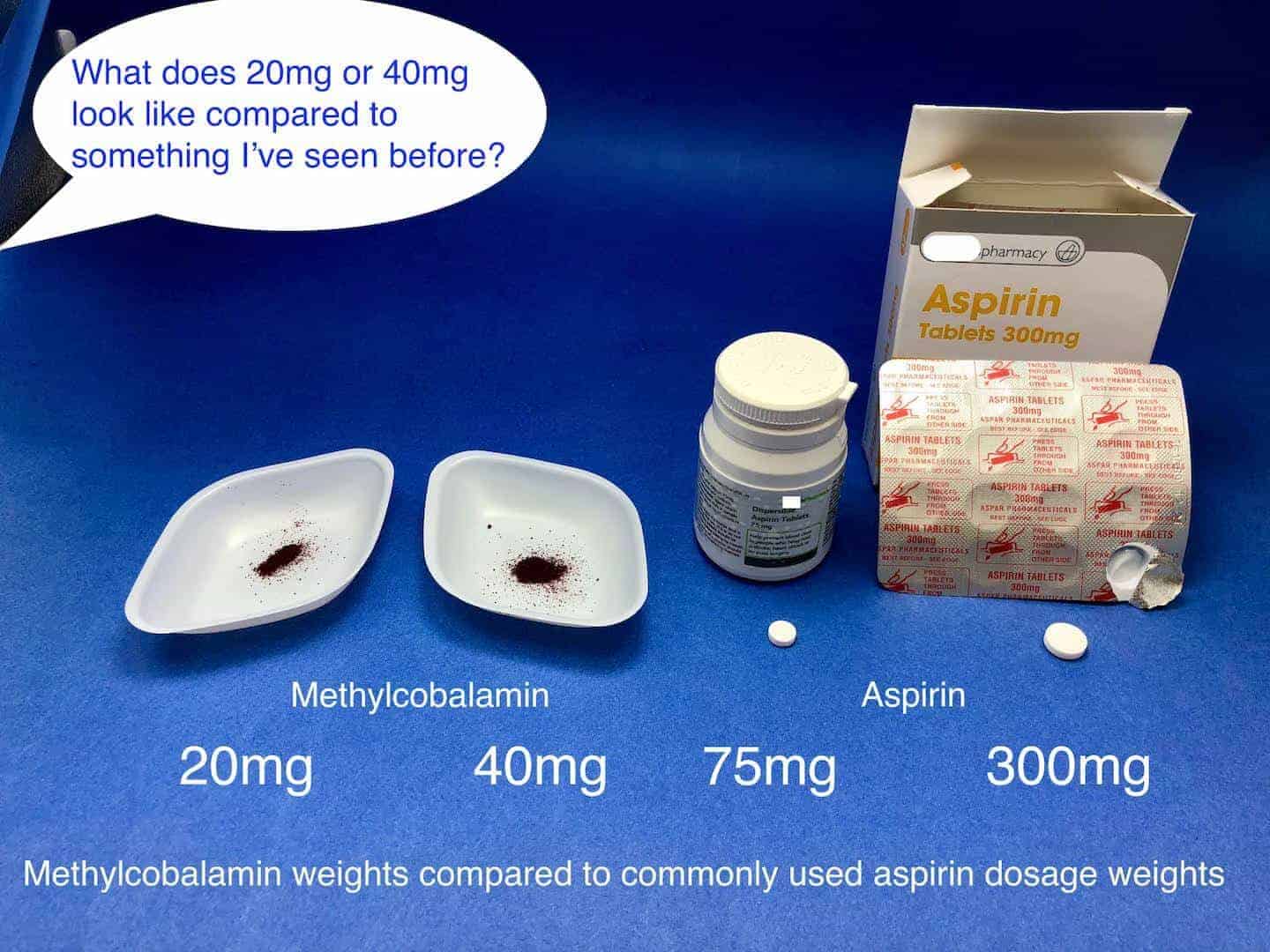 Once you dissolve the powder in 10ml of saline, the vial will become full. You will then get a solution that'll give you 33 shots (if you inject with 0.3ml syringes, as advised).
If you come across vials that look a lot more full, it's because they're lyophilized. Lyophilization is done by dissolving the B12 in a solute, and companies do not say what solute they use (hopefully not benzene!). This accounts for the difference in volume. In contrast, our B12 is 100% pure, pharma-grade methylcobalamin.
Why doesn't the vial have a rubber seal?
For antimicrobial protection, we considered all sorts of closures for our glass vials. Rubber closures actually allow ingress of contamination from the hole through which the needle passes, because that hole is too large to keep out bacterial contamination. There are multiple studies that report this – such as this one.
Also, as you can read in this study, rubber closures are prone to sample contamination by rubber additives. This is more well-known now and another reason to avoid rubber closures, although there are still plenty around, as they tend to be cheaper.
Anyway, as well as the risk of contamination from the rubber, the type of syringes we recommend do not contain a needle strong enough to pierce a rubber stopper.
To maintain the integrity of our B12, ensure the vial remains tightly closed when not in use. When you do use it, the contents will remain sterile as long as nothing other than a sterile needle is introduced into it. The short length of time the vial is expected be open when drawing up the liquid is minimal. Assuming a fresh needle is used every time, which it should be, there is no chance of any contaminates entering the vial.
By the way, it is actually the staph aureus on our skin that causes the most problems, so always clean your skin with alcohol swabs or soap before injecting.
I ordered the saline after I ordered the B12, though I haven't gotten that yet?
The saline ships from Israel, so it's in a separate package from the B12 itself, which ships from England. If you don't receive any of the orders in 30 days, contact us.
When should I notice a difference?
As we previously wrote:
Within the first 48-72 hours, the B12 shots will lead to a rapid increase of immature red blood cells (reticulocytes), and the subsequent, gradual correction of anemia. But full correction may take up to 3 months. This is because methylcobalamin B12 acts on the bone marrow to normalize red blood cell formation. The life cycle of a red blood cell is 90 days, so you will not reach your optimal improvement until after 90 days, when all malformed red blood cells have died off. So, inject daily for at least three months, and only then gauge how you feel.

How Quickly Do B12 Shots Work?
Is there tracking on the saline?
No. Shipping without tracking helps us keep the price low. If it doesn't arrive in 30 days, contact us and we'll re-send you another package.
The B12 hasn't arrived yet, it seems stuck at X location.
If your B12 doesn't arrive in 30 days, message us and we'll send you a replacement package immediately. Royal Mail (our courier) only allows us to report "Lost Item" after 30 days, so please be patient and wait a month before you message us.
How much should I inject at a time and how often?
Should I be taking other supplements or follow any diet?
Folate is a common supplement we recommend along with the B12. For more elaborate advice, read this article please.
If I want to inject on a monthly basis, can the powder be made into a bigger dose? Would I therefore need different syringes?
You can use whatever doses you prefer, although we recommend these ones. Monthly injections of B12 don't make much sense, because B12 doesn't last long, as any excess quickly goes out in the urine. This is why B12 isn't toxic even in huge amounts.
I am allergic to mold and learned that oral products that I tried were made from bacterial fermentation and mold formation. Is this the case for your product?
No – methylcobalamin is not derived from mold. It is manufactured through bacterial fermentation, but it does not contain bacteria. As we are all aware, antibiotics were discovered through mold research, but it does not mean that antibiotics contain mold. Likewise, even though methylcobalamin is synthesized from bacteria, it obviously does not mean it contains bacteria. So, no mold or bacteria in our B12.
How is the manufacturing process behind the B12?
Our methylcobalamin is manufactured through bacterial fermentation/synthesis which is described in this fairly decent Wikipedia article.
Microbial de novo biosynthesis of vitamin B12 occurs through two alternative routes: the aerobic or anaerobic pathway, in bacteria and archaea, respectively. Tetrapyrrole compounds including cobalamin, heme, and bacteriochlorophyll, are derived from δ-aminolevulinate (ALA) and a complex interdependent and interactional relationship exists among these tetrapyrrole compounds in numerous bacterial species. To maintain vitamin B12 at stable levels, its biosynthesis and transportation is regulated by a cobalamin riboswitch in the 5′ untranslated regions (UTR) of the corresponding genes.

Microbial production of vitamin B12: a review and future perspectives
This makes it fairly straightforward to use biosynthetic pathways in bacteria to synthesise methylcobalamin.
How long should I wait before injecting in the same injection site?
Touch the skin – if it's a little harder than the rest, pick another spot. As long as there's new skin-surface available, choose it over any previously injected surface. Once you cover it all, go through the rotation again. Full injection instructions are here.
Will you ever produce 100% hydroxycobalamin as well?
We recommend methylcobalamin in 99.9% of cases – here's why. Some people do specifically ask for hydroxocobalamin, so in the future we might offer it. We'll see.
I read that methylcobalamin can turn into hydroxocobalamin, is this true?
Yes, it's part of the photolysis process, or destruction by light. But methylcobalmin only photolyses when in liquid solutions. It is physically impossible for methylcobalamin in dry form to break down to hydroxocobalamin. In dry form it is photo stable and stable up to temperatures of 600°F (315°C). Once your methyl B12 is dissolved in saline, this is why we recommend to wrap it with something that blocks light, such as aluminum foil. The vials prevent 67% of light going through, aluminum foil will prevent 100%. If you store it in a completely dark place, you may not need to wrap it with anything. 
How long is the B12 good for once dissolved in saline?
As long as you followed our instructions and covered the vial in aluminum foil (to avoid photolysis), the dissolved B12 will last for as long as the date stamped on the vial. In reality, you'll finish it way sooner. Read more about the expiration of our B12.
To avoid photolysis, is there an alternative to aluminum foil?
Yes. If you find aluminum foil not tight enough to keep the bottle stable, you can order and use a seamless aluminium screw lid tin instead.
Do you have a pharmacist overseeing your product?
Here's the Material Safety Data Sheet (MSDS) for our methylcobalamin.
Another question?